It's NOT 'rehabilitating Stalin,' but mainstream media portrays Russia as VILLAIN to trigger alarm
George Szamuely
is a senior research fellow at Global Policy Institute (London) and author of Bombs for Peace: NATO's Humanitarian War on Yugoslavia. Follow him on Twitter
@GeorgeSzamuely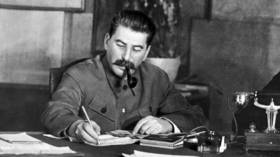 Western media's misleading claim that Russia is glorifying Soviet dictator Joseph Stalin serves an obvious purpose: to prompt urgent calls from its readers for foreign intervention.
Russia is not rehabilitating Stalin. However, Western commentators who purport to be so concerned about this unlikely prospect would do well to wonder about the wisdom of policies toward Russia that cause ordinary Russians to look back with admiration on a leader who, whatever his crimes, protected them from foreign aggressors.
ALSO ON RT.COM
Is this huge new cathedral to war Putin's folly, or a magnificent, unique building that tells a lot about the East-West divide?
That the city of Volgograd has not reverted back to its former name is proof that no Stalin rehabilitation is taking place. Stalingrad is, after all, the location of one of the most famous battles in world history.
Restoring the name of Stalingrad would not only be in accordance with the spirit of respect for a country's history, but would bring in tourists and much-needed revenue. Yet this has not happened, despite the many petitions requesting the name change.
With each passing year, the historic significance of Russia's stunning victory in World War II grows in magnitude, as does the Russian people's pride in their perseverance and ultimate triumph in the face of unspeakable horror. Yet the man who led the Soviet Union during those years and who was responsible for all of the critical decisions that led to Soviet victory remains a person about whom it is largely impermissible to speak positively in public.
This is an act of great forbearance, for no one disputes who led the Soviet war effort. Western diplomats and military leaders who dealt with Stalin during the wartime years attested to his brilliant decision-making, his tactical and strategic shrewdness and his astute diplomacy.
ALSO ON RT.COM
27 million reasons why we must remember Victory Day & stand up to attempts at rewriting history
The explanation for such poll findings is not hard to find. The first business of government is protection of its people from armed attack. Stalin did that. When he came to power in 1925, the Soviet Union was in ruins. Devastated by civil war, routed militarily by Poland, vulnerable to attack from any and all of its neighbors, and run by a hopelessly divided leadership, the Soviet Union faced very dim prospects for survival.
When Stalin died, in 1953, the Soviet Union was the dominant power in Europe and, with communist China as its junior partner, the dominant power in Asia. Governments not under Soviet rule – those of the United States and Western Europe – lived in terror of coming under Soviet rule.
So, what is Russia's situation today? Well, NATO has expanded its membership to include every former member state of the Warsaw Pact, not to mention former republics of the USSR, promised membership to Ukraine and Georgia, and conducted almost daily military exercises in the Baltic and Black Seas. The United States has walked away from the Anti-Ballistic Missiles, Intermediate-Range Nuclear Forces and Open Skies treaties. And there is a constant barrage of anti-Russian propaganda emanating from many Western capitals. With all that in mind, perhaps it isn't surprising that Russians, while they certainly don't want Stalin back, look with admiration and respect upon a leader who protected them from foreign aggressors.
The statements, views and opinions expressed in this column are solely those of the author and do not necessarily represent those of RT.