US is still sounding the alarm on China, but their confrontation could be apocalyptic
by Darius Shahtahmasebi is a New Zealand-based legal and political analyst, currently specializing in immigration, refugee and humanitarian law.
Published time: 23 Feb, 2019 16:36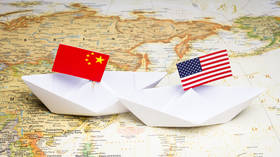 China continues to be the focal point of US foreign policy and this will continue right throughout 2019. Despite the many reasons for the prolongation of this conflict, the overall implications of this war remain catastrophic.
While China's developments in military technology will astound some within the US defense department, at the end of the day, the corporate interests driving US foreign policy are probably more threatened by the geostrategic space China appears to be occupying to Washington's detriment.
If the odds are in your favor at this level, and you still can't pull together to win a trade war or military confrontation, perhaps it's time to re-evaluate your strategy towards so-called rival nations in general. Because at the end of the day, the current strategy leaves much to be desired, and the implications of a US-China confrontation are too apocalyptic to even contemplate as a possible avenue in the first place.